Star to Watch
JEREMY RENNER
By R. Kurt Osenlund
,
The Good Life
film critic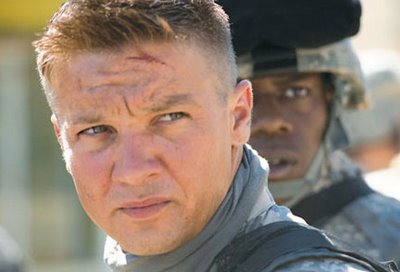 Before this year, 38-year-old Jeremy Renner's most noteworthy performance was his Independent Spirit Award-nominated turn as the titular flesh-eater in 2003's low budget and little-seen "Dahmer." You might also remember him as the resident sleazeball in the down-home drama "North Country," or as the unkempt cowboy Wood Hite in the "Assassination of Jesse James by the Coward Robert Ford." By the end of 2009, however, chances are you'll know him well as Staff Sergeant William James, the straight-shooting soldier he portrays in director Kathryn Bigelow's widely-lauded Iraq war drama, "The Hurt Locker."
Renner as Sgt. James is one of the few '09 performances to already be building some serious Oscar buzz. The American actor is reportedly revelatory in the role, which has him defusing bombs amidst the chaos of battle while coping with the emotional conflicts of war. The film -- written by freelance writer Mark Boal, who spent a great deal of time overseas with an actual bomb squad -- is one of the best reviewed of the year, and it's the first title in the recent wave of War-On-Terror movies to receive nearly unanimous acclaim.
Renner has also been appearing as one of the lead characters on the ABC series "The Unusuals," a comedy/drama that follows a group of New York detectives as they attempt to solve some unconventional cases. Though the show was well-received, ABC announced in May that it would not be returning for a second season. Still, the multi-format exposure can't hurt Renner's career, which, after years of stage work and supporting roles, may finally be hitting the fast track it deserves.
"The Hurt Locker" is currently playing in limited release. It opens July 10 at Philadelphia's Ritz Five theater.