Star to Watch
By R. Kurt Osenlund,
film critic and correspondent
ROBERT DOWNEY JR.

2008 has been quite a year for this former bad boy, who's quickly regained his position as one of Hollywood's hottest commodities. First, he played a hard-drinking, paternal principal in the teen comedy "Charlie Bartlett." Then, he buffed up and donned head-to-toe metal armor to play the title role in "Iron Man," knocking it out of the park and proving all the naysayers (mainly fans of the comic who initially thought him too old) dead wrong.
As if that weren't enough, he stole the show in this summer's war film satire "Tropic Thunder" as an Aussie method actor playing a black character. "Thunder" is still in theaters, and critics and audiences alike are still raving about his comedic chops. But Downey Jr.'s stellar year is still not over.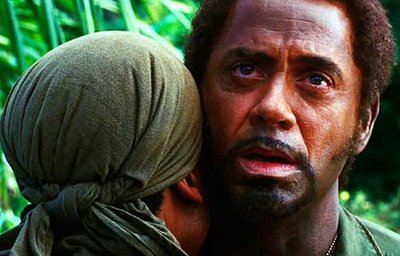 In November, the versatile star will appear in director Joe Wright's "The Soloist" (see below), opposite Jamie Foxx. Some pundits are already predicting an Oscar nom for Downey Jr.'s performance as a struggling LA Times journalist who befriends Foxx's Juilliard-trained mental case. If he lands the nod, it'll be his first since 1993, when he scored a slot in the Best Actor race for his work in "Chaplin."
And if he doesn't, he'll still have had a bigger breakthrough than most of '08's other phenoms...and he's been in the business for nearly 40 years.