Star to Watch
SANDRA BULLOCKBy R. Kurt Osenlund
,
The Good Life
film critic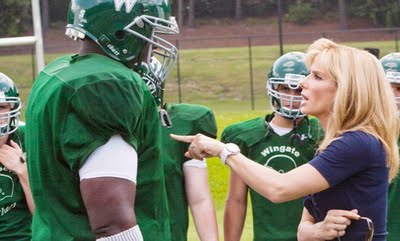 There's no question about it: Sandra Bullock just had the best year of her career. Not even when her breakout turn in "Speed" got her heaps of work in the mid- to late- '90s did Bullock experience the kind of popularity and success she garnered in 2009. In July, Bullock starred opposite Ryan Reynolds in "The Proposal," a charming if not entirely laudable flick that saw the 45-year-old return to her romantic comedy roots. The movie went on to gross a whopping $314 million worldwide, making it Bullock's biggest box office hit. It also landed her a Golden Globe nomination for Best Actress (Comedy/Musical).

But, surely, the recent Bullock film that really got everyone talking was "The Blind Side," a fact-based football drama about the unlikely upbringing of defensive lineman Michael Oher. Bullock portrays Oher's adoptive mother, Leigh Anne Touhy, a real-life Southern belle with a pampered, polished lifestyle and fierce maternal instincts. Mildly moving but more than a little patronizing, "The Blind Side" proved very popular with audiences, grossing over $200 million to become the most successful sports-related drama of all time.

"The Blind Side" also landed Bullock a heap of awards recognition, including a Golden Globe for Best Actress (Drama), a SAG award for Best Actress and an Academy Award nomination for Best Actress. Many believe her to be the favorite to win the Oscar, or, at least, the only contender who stands a chance against Meryl Streep, a nominee for "Julie & Julia."

All this amidst starring in what many to believe to be one of the very worst movies of last year, "All About Steve," for which Bullock received a Razzie nomination for Worst Actress not one day before the Oscar nominations were announced. Like it or not (as much as I adore Bullock, I feel the Oscar recognition is undeserved), hers is the most fascinating story of the awards season, especially since her climb to the top coincided with almost universal jeers for a major dud. Another factor that's pulled Bullock through is her sheer likability, which, although it doesn't really warrant award wins, sure makes for some entertaining acceptance speeches.