DVD Spotlight: Sept. 3 - Sept. 9
By R. Kurt Osenlund
,
The Good Life
film critic
Take my word for it, reader: with the only major releases being "All About Steve," "Gamer," "Carriers" and Mike Judge's disposable "Extract," this is NOT a great week for cinema. Put your time and your would-be box-office cash to better use by catching up on these films, released earlier in the year and now available on DVD: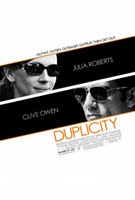 DUPLICITY
Dir. Tony Gilroy

Starring Julia Roberts, Clive Owen

PG-13
Writer/director Tony Gilroy follows his Oscar-nominated "Michael Clayton" with this clever and witty spy thriller, which incorporates comedy and romance and evokes the fast-talking films of yesteryear ("His Girl Friday" comes to mind). As they did in Mike Nichols' "Closer," Roberts and Owen have killer chemistry, and Paul Giamatti and Tom Wilkinson score as two feuding corporate heads.
EARTH

Dir. Alastair Fothergill

Narrated by James Earl Jones

G
Compiled from portions of the BBC's epic miniseries, "Planet Earth," this first feature from Disney's newly-formed subdivision Disney Nature certainly boasts some of the year's most breathtaking imagery, filling the screen with patterns and vistas from across the globe. The stories of three "families" -- polar bears, whales and elephants -- is a bit forced, trying hard to fulfill the narrative structure established in better movies like "March of the Penguins," but the cinematography alone makes for an enjoyable experience, showing certain corners of the world as they've rarely -- or, perhaps, never -- been seen before.
SUGAR

Dir. Anna Boden and Ryan Fleck

Starring Algenis Perez Soto, Rayniel Rufino

PG-13
Boden and Fleck, who already scored a home run with 2006's "Half Nelson" (the film that landed star Ryan Gosling a Best Actor Oscar nomination), return with this unconventional sports drama about a pitcher from the Dominican Republic who travels to the U.S. to play in the minor leagues. Employing themes of culture shock and familial responsibility, "Sugar" features strong performances from a batch of unknown actors and turns the familiar baseball-film formula on its head.