Star to Watch
SAORSIE RONAN
By R. Kurt Osenlund, The Good Life film critic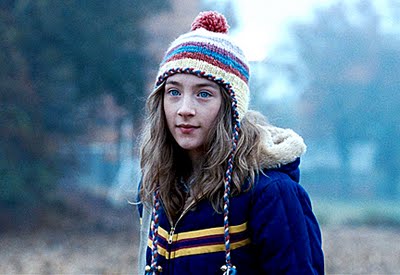 In 2007, at the age of 13, American-born Irish actress Saorsie Ronan became the 11th youngest actor in history to be nominated for an Oscar, for her supporting work as young Briony Tallis in the epic romance "Atonement."
In addition to the Academy, Ronan's performance got her the attention of a host of film critics societies, as well as Peter Jackson, director of "King Kong" and the "Lord of the Rings" trilogy. Jackson, who's known to have a keen eye for casting (he launched the career of Orlando Bloom), chose Ronan to play the lead in his next project, a big-screen adaptation of the bestselling novel "The Lovely Bones" by Alice Sebold.
In the film, which opens this December, Ronan plays Susie Salmon, a young girl who's raped and murdered in the beginning of the story, and then watches her family -- and her killer -- from heaven. Jackson has said that Ronan reminded him of a young Cate Blanchett, which is an extreme compliment seeing as Blanchett is one of our greatest living actors.
With her piercing blue eyes and cryptic, Mona Lisa-like smile, Ronan possesses a fascinating screen presence, and exudes a maturity and natural talent that's well beyond her years (it's not for nothing she was the only actor in "Atonement" to receive an Oscar nod). In "Bones," Ronan stars alongside fellow Academy Award nominee Mark Wahlberg, Academy Award winners Rachel Weisz and Susan Sarandon, Michael Imperioli and Stanley Tucci, who plays Susie's murderer.
That's a mighty group of actors with whom to share the spotlight, but don't think young Ronan isn't capable of stealing the show. . . it wouldn't be the first time.
To watch the trailer for "The Lovely Bones,"
CLICK HERE
.