Star to Watch
By R. Kurt Osenlund
,
film critic and correspondent


JAMES FRANCO
A Golden Globe-winner for his portrayal of James Dean in a 2001 made-for-TV biopic, James Franco already knows what it feels like to be at center stage. Yet 2008 will still be remembered as a "coming out" year for the 30-year-old heartthrob, who's getting more positive attention in highly acclaimed films than perhaps ever before in his decade-plus career on the big screen.
Franco is known by many as Daniel Desario on TV's "Freaks and Geeks," the cult comedy hit from funny meister Judd Apatow that bowed out after one season in 2000. Earlier this year, Franco teamed up with Apatow again for the filmmaker's smokin' hilarious comedy, "Pineapple Express." As a simple-minded, hopelessly loyal pot dealer, Franco is aces in his funniest performance yet (and one of the funniest of the year).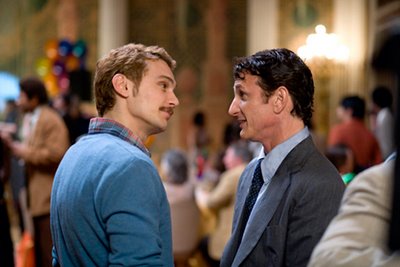 Next up, Franco plays Scott Smith, the love interest of America's first openly gay politician, Harvey Milk (Sean Penn), in director Gus Van Sant's biography of the San Francisco phenomenon who was assassinated in 1978. Aside from his involvement in the hugely successful "Spider-Man" franchise, "Milk" is arguably Franco's most high-profile project to date, and Van Sant is said to have inspired one helluva performance from the young star. Viewers will be given the opportunity to find out on Dec. 5, when "Milk" is released worldwide.