Star to Watch
RICKY GERVAISBy R. Kurt Osenlund
,
The Good Life
film critic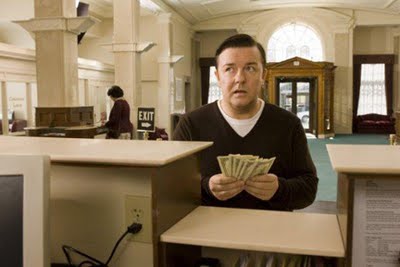 Well known for his early work on the U.K. version of the television comedy, "The Office," and HBO's improv-driven series "Extras," funnyman Ricky Gervais has made an impressively smooth transition to the big screen. Last year, he lended his dry delivery and brash British wit to the amusing and disarming -- if not wholly successful -- comedy film "Ghost Town."
(More recently, Gervais made a memorable appearance at the Primetime Emmy Awards, where he characteristically insulted a handful of people while still remaining completely likable.)
This week marks the release of Gervais' directorial debut, "The Invention of Lying," another (somewhat) supernatural laugh-fest in which Gervais stars as a man who learns how to lie in a world where no one else can. Co-starring Jennifer Garner, Jonah Hill and Louis C.K., the movie reportedly has shades of religious controversy -- none of the characters have any knowledge of God -- that the studios strategically kept out of its promotional material (trailers, etc.).
I've not yet seen the film (which opens Oct. 2), but the faith aspect certainly makes it seem more intriguing, and it speaks of Gervais' much-appreciated willingness and ability to nudge the envelope in a mainstream climate that, too often, plays it safe.
You can catch my review of "Ghost Town"
here
, as well as watch the preview for "The Invention of Lying" below.